NEW NEIGHBOURHOOD called Odindale, created to be a companion of sorts to an RP

driley1
and I have going on called WinnerMart (where Quatre basically owns the Gundam Wing version of Walmart).
I have quite a bit of pictures saved up (with more probably in the future). This is the first installment.
Apologies if this jumps around a lot until later parts - when I got back into the Sims again, I didn't really...take a lot of pictures. So there are a lot of gaps. (TBH they weren't all that interesting anyway, but still.) Sorry for whiplash.
CAST OF CHARACTERS IN THIS HOUSE:
Heero Yuy - married to both Duo Maxwell and Quatre Winner (via a law/whatever called the Menage a Trois Act passed by ESUN November AC205); works in retail; Family sim with the LTW of Graduate Three Kids from College
Duo Maxwell - married to Heero and Quatre; Family (I think); LTW is 6 Grandkids
Quatre Raberba "Kat" Winner - owns Winnermart, married to Heero and Duo, works in the Business career; Fortune; LTW
was
to top the Business track, but when OFB, Pets, and Seasons were installed, it ended up changed (??? wtf indeed) to top the Education career track (which is totes not Kat at all).
Katherine Oud Winner - Kat's sister. She lives with them to help out with the kids because Kat doesn't trust the nanny (with good reason!). Recently they found each other as Katherine was switched at birth with Joseph Winer's real daughter Adina.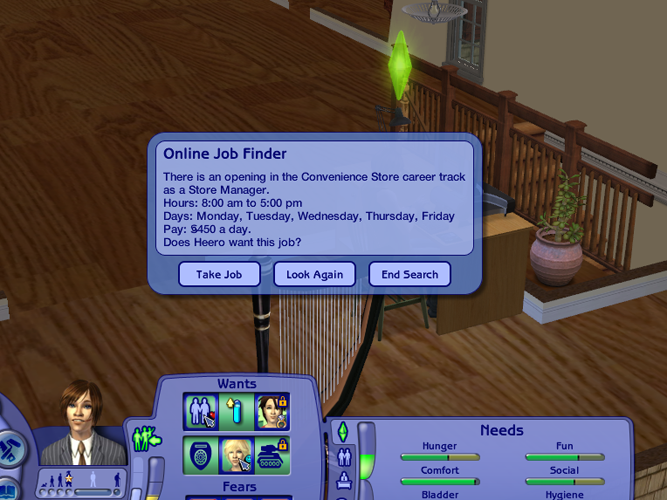 Well that was quick. I had Heero in the Business track for about a day before this popped up.
Obviously I had him take it.

(This career, by the way, is a custom one I got from MTS.)



(

Read more...Collapse

)



This entry was originally posted at http://simming-versailles.dreamwidth.org/17077.html. Comment where convenient.